Togo Movie Cast, Review, Story and tailor
Togo is a 2019 American historical adventure film directed by Ericson Core and produced by Walt Disney Pictures. Watch Togo movie if you do not know how the dogs are loyal and brave companions of human beings.
The film stars Leonhard Seppala and his nominal sledge dog in the serum run from 1925 out of the way to Nome to transport diphtheria antitoxin serum during the diphtheria epidemic while enduring tough conditions.
Disney+ released it on December 20, 2019. It was mostly well-received by critics and audiences.
Information about the image: Leonhard Seppala with sledge dogs from his kennel. From left to right – Togo, Karinsky, Jafet, Pete, unknown dog, Fritz.
Image-Credit © Carrie McLain Museum / AlaskaStock, CC0, via Wikimedia Commons
Togo Movie Cast
| | |
| --- | --- |
| Actor Name | Role in Movie |
| Willem Dafoe | Leonhard Seppala |
| Diesel | Togo |
| Riptide | Adolescent Togo |
| Julianne Nicholson | Constance Seppala |
| Christopher Heyerdahl | Mayor George Maynard |
| Richard Dormer | Dr Curtis Welch |
| Adrien Dorval | Bill Clark |
| Madeline Wickins | Sally Burdett |
| Michael Greyeyes | Amituk |
| Nive Nielsen | Atiqtalik |
| Nikolai Nikolaeff | Dan Murphy |
| Catherine McGregor | Sarah Foley |
| Brandon Oakes | Henry Ivanoff |
| Paul Piaskowski | Max Adams |
| Michael Gaston | Joe Dexter |
| Shaun Benson | Gunnar Kaasen |
| Zahn McClarnon | Tulimak |
| Jamie McShane | Scotty Allan |
| Steven McCarthy | Dev Burdett |
Togo-movie-cast
Where to watch Togo Movie
This movie is available on Disney plus Hotstar OTT platform in the English language.
Togo movie short story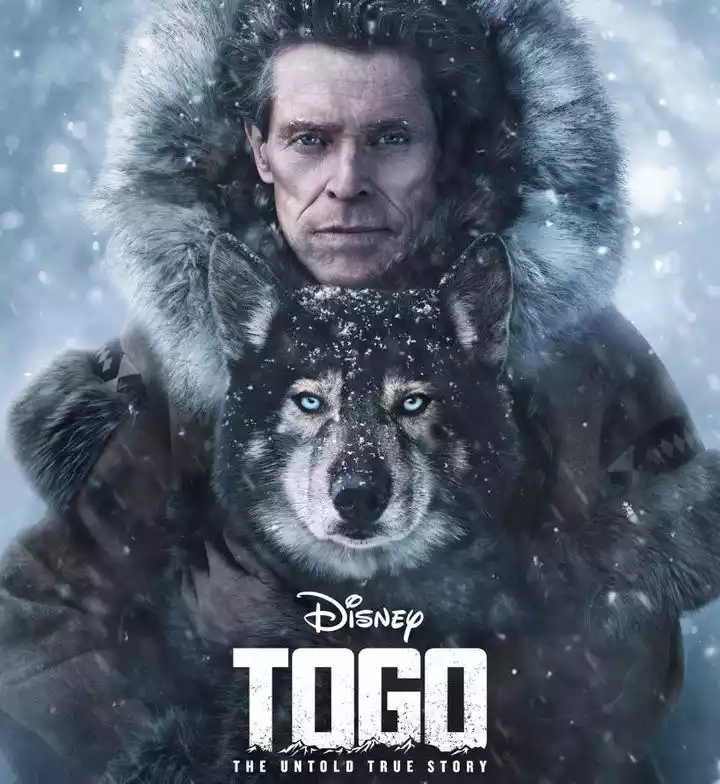 This movie is based on Leonhard Seppala and his Siberian Husky Dog Togo. 
The movie Togo shows how Leonhard Seppala raises his dog Togo and makes him a sledge dog. 
The climax of the Togo movie is how Seppala and his lead Togo dog bring Noam's serum to his hometown Alaska in 1925. This movie is based on an actual incident. 
Togo is the story of a brave dog. The story begins in 1913 with Seppala, a sledge dog breeder, trainer and masher. 
The musher is called the one who drives the dogs with the slate. The movie starts with a small puppy which is born at Seppala home, which is a Siberian Husky breed. But it is weaker than other puppies.
Seppala does not want to keep it with him; he tells his wife that this is Alaska, and here weak dogs cannot survive at all. But his wife wants Sepaala to give him a chance. 
They both named the puppy Togo and Togo was given a chance. Togo also gets older with time. Togo is carefree and has no discipline.
But Seppala's wife wants Seppla to make him a sledge dog. The Seppala tells him that this cannot be made a sledge dog, and now the time has come when we have to say goodbye to Togo. 
Seppala gives Togo to a friend but he brings the puppy back the next day. He tells Seppala that it is a naughty dog and he can't keep Togo with him. 
Seppala is not happy with Togo's return, Actually, because of Togo, every work of Seppala starts getting hampered, although his wife is pleased.
Whenever he takes his dogs for training, he also locks Togo with the rest of the dogs. But Togo digs a hole in the ground, comes out on the other side of the trap, and somehow reaches where the Seppala is practising sledge with other dogs. 
When Togo reaches that place, his practice breaks down and once he falls into the water. That's why Seppala now locks him in the room, and the next day, Togo again runs away from the upper window.
Simultaneously, Togo reaches where the Seppala is practising the sledge with the rest of the dogs. Seppala is completely fed up with Togo. 
Eventually, he gives it to his friend. Her friend told her that I would never leave the house, so Togo would also have to stay home with me. 
But when Seppala and his wife leave, Togo breaks the window glass and runs away. And once again reaches the same place where the Seppala is practising sledge with other dogs.
When Seppala sees that Togo is hurting his hand, he makes him sit on a sledge because it is a dangerous forest with dangerous animals, and anyone can kill Togo with the smell of blood. 
But Togo doesn't want to sit on the sledge; instead, he wants to run with other dogs. The Seppala is forced to tie Togo with the rest of the dogs.
Seppala sees that Togo's speed is much higher than the rest of the dogs, so Seppala ties Togo in front of Slade.
But he seems that even there, his speed is more than other dogs. When he comes home, Togo is ahead of all the dogs, so Seppala is surprised and happy too. 
He tells his wife that it is not only a sledge dog but also a lead dog. It had left everyone behind. After becoming Togo's lead dog, Sappala wins all championships held in Alaska and very soon both Togo and Seppala become very famous.
Similarly, 12 years passed and this year is 1925. One day, when Seppala returns to his hometown with his dogs, he hears that there is an epidemic in the city. 
The name of this disease which affects children a lot is Diphtheria. 
That's why the mayor calls a meeting, and Seppala also goes to this meeting. Mayor told in the meeting that there is an antidote for this disease, but it is in the Nenana. 
It is 600 miles away; they cannot send medicine by helicopter because the weather will be terrible. 
He asked Seppala about the weather; Seppala said today when I was coming back, I saw a storm running far away from the mountains. 
This storm is slowly moving towards our city. He says that seeing the storm, his dogs were running fast towards the house.
Dogs have behaved like this for the first time in 12 years. Seppala says that if my dogs are afraid of the storm, we should also be afraid of that storm. 
Because this storm will be terrible, everyone wants Seppala to bring that medicine by sledge. But Seppala leaves without answering. When he goes outside, the doctor asks Seppala for a lift.
He drops the doctor off at the hospital and when he looks inside through the window of the hospital, he sees several sick children.
The condition of those children is horrible. Those children cannot be saved without medicine. When Seppala comes to his house at night, he tells his wife that I will go to get medicine, although his wife does not want to. 
His wife knows that travelling 600 miles is suicide in such dangerous weather.
Seppala tells his wife he has to go because we know all the children I saw in the hospital. 
Seppala says that he will take Togo with him too. His wife says that Togo is now 12 years old, and you said that Togo cannot travel even 150 miles now, and this journey is 600 miles. 
You love Togo so much that I don't want you to be the cause of Togo's death.
But Seppala doesn't want to go without Togo. The following day Seppala takes Togo and leaves for Nenana. 
The storm intensifies as the journey of Togo and his fellow dogs progresses. There is such a robust icy wind in the storm that Seppala does not see anything. 
Togo is at the forefront, and Seppala constantly tells his dogs to move forward. Seppala and his dogs must reach Nenana as soon as possible and return to their hometown Alaska with medicine.
The movie shows Seppala and his sledge on a steep slope, and Togo stops.
Seppala does not understand anything, but when he comes, he sees that there is a deep moat in front of him.
Togo sees the moat, so he stops and thus saves the lives of Seppala and his dogs. Seppala sees Togo's leg is bleeding. After travelling the whole day, they all reach an outpost. 
There is a doctor there; she tells Seppala that Togo is very tired. Togo is now 12 years old, and such a long journey is unsuitable for him. 
But the following day, Seppala and his leading dog Togo move forward in this terrible storm. 
On the other hand, the condition of the children in the hospital is deteriorating continuously, and here Seppala is progressing continuously.
Seppala is constantly taking shortcuts to reach the medicine as soon as possible. Then Seppala sees a frozen lake in front of him, which is very dangerous. 
On the other hand, that terrible storm is also coming towards them. But Seppala does not panic here; he keeps ordering his dogs to keep moving forward. 
Togo continues to lead the entire team into the frozen lake. The frozen lake is cracking due to the weight of the sledge.
Seppala and his team move quickly, and somehow they cross the frozen lake. 
After travelling the whole day, they stop at another outpost where they will spend the night. 
It is shown in the film that Seppala's wife goes to the mayor, where she knows that medicines have been sent from Nenana.
In the middle of the way, they will meet Seppala. His wife says that Seppala will go by shortcut, and if those people do not find him, he will keep moving forward. This will make the journey of Seppala even longer. 
After this, the Togo movie shows Seppala proceeding from the new outpost in the morning. 
Although the condition of Togo is terrible due to this long journey, Seppala does not want to stop. Togo leads the way. 
It is also true that Seppala keeps on moving forward by using shortcut paths. 
But if the team of Seppala and Togo did not meet the man who had left Nenana by taking medicines. So there is a possibility that Seppala will reach Nenana, where he will not get medicines. 
Seppala is very tired, and his eyes are constantly closing. Along with this, his dogs are constantly moving like lightning. 
It is further shown in this movie that Henry, who has medicines, is on a high with his sledge dogs, but Seppala's sledge is coming out from below. Henry sees her; he runs after her and tries to stop her by making a loud noise. 
But because Seppala is exhausted, also Seppala cannot hear the voice of Haneri due to strong storm winds.
Here comes the twist in the story, the Togo dog hears Henry's voice. When Henry realizes that Seppala does not see him, so he goes ahead of him. 
Then Henry sees that Seppala is coming towards him, in fact, Togo had heard Henry's voice and stopped.
Seppala had now got the medicine for which he had come this far. Both Haneri and Seppala stop at an outpost. 
Henry says you leave Togo here because his condition is terrible. He says he has also lost many dogs in this storm, and Henry does not want Seppala to lose Togo.  
But Seppala makes Henry clear. It says that Togo is my lead dog; without him, I cannot move forward. 
After this, Seppala and Togo set out for their return. Once again, Seppala and his team come across the same frozen lake. 
Seppala knows it is dangerous to go through that frozen lake, but he still decides to cross the lake. 
But as Seppala moves forward, he sees that water is also starting to flow out of the lake, and if he falls into it, all will die.
But Togo continues to advance intelligently, and they safely reach the lake's shore. 
But as soon as they reach the shore, the whole block of ice is wholly separated, due to which Seppala and his team now have only water in front of them. 
Seppala lifts Togo and throws it on the bank of the lake and asks Togo to drag the sledge so that the piece of the lake he is standing on comes near the shore. 
Togo tries his best to bring everyone to shore, despite being injured. Due to this act of Togo, everyone's life is saved, and everyone reaches the post where there is also a female doctor.
When Lady Doctor examines Togo, Lady Doctor has tears in her eyes. 
She says that now Togo is dying, and his condition is terrible. Seppala also feels very sad because he loves Togo very much. 
After spending the night at the same outpost, Seppala does not tie Togo forward but makes him sit on a sledge when he is moving forward in the morning. 
But Togo comes to the front and stands. Cause Togo still wants to lead and doesn't want to rest.
Sappla binds Togo forward and they all start the journey. But after moving forward for a few hours, the storm becomes more severe. Sappla does not see anything, nor does he know the way forward.
Seppala comes to Togo and tells him that he can no longer see the way and he will have to take everyone to the next outpost.
The Seppala covers his face completely and hangs entirely on the sledge. 
Togo starts moving forward continuously, but Togo also gets tired after travelling for a few hours. 
Sappla comes to him but Togo remains completely motionless. Just then Sappla sees a light, he sees that one of his companions is running towards him with a torch. 
Actually, that is the next outpost that Togo has to reach. Sappla gets very emotional seeing that Togo had saved everyone's life.
They all go inside; Togo is lying on the ground because he is so tired. A Mushar named Gunner is on this outpost, sent by Seppala's wife. 
So that the gunner reaches the hospital after taking medicine from Sappla. At night everyone rests at this outpost and the next morning the gunner leaves for the city with medicines.
After a few hours, the gunner reaches the town of Nome with the medicine, where a reporter is waiting for him. 
Because the news had spread to New York that a musher had travelled 600 mills and gone to get medicine in a terrible snowstorm.
But the reporter mistook the gunner's sledge for Sappla's team and prints the wrong news. "Guardian of the Nome city-Balto"
This makes Seppala's wife very disappointed because the name of Togo is replaced by the name of Balto, which is the gunner's dog. 
On the other hand, Togo also recovers now, and Seppala, along with his team, comes to the city of Nome. 
When Seppala reaches Nome, everyone comes to say thanks to Seppala and Togo, including children who have been cured by medicine. 
When one of the girls sees Togo, she asks if Togo is going to die. 
Seppala gets very upset because of this and goes out of the house. His wife also goes after him; he tells his wife that whatever the condition of Togo is today, it is because of him. 
Togo should not have taken such a long journey at 12, but his wife says that no one but Togo could have done this work. 
Next morning when Seppala goes for sledge practice with his dogs. 
So Togo also approaches him, limping. And after some time, when Togo is fully recovered, Seppala and his wife go on a long trip with Togo. Togo has a lot of puppies that many mushers come to pick up. 
These puppies and this breed were given a new name, Seppala Siberian. 
Togo died in 1925. Seppala continued to train dogs even after Togo's death. However, Togo was very famous in Alaska. 
All the credit for the bravery done by Togo went to another dog whose name was Balto. 
Balto's statue was erected in New York. In 2011, Time magazine featured Togo – the "Heroic Animal of All Time." 
So it was a true story about a dog Togo. Togo proved that dogs are the most honest, loyal and brave companions of human beings in the world. 
Togo movie trailer
Togo Dog Movie Director and Producer
| | |
| --- | --- |
| Directed by | Ericson Core |
| Written by | Tom Flynn |
| Produced by | Kim Zubick |
| Cinematography | Ericson Core |
| Edited by | Martin Pensa |
| Music by | Mark Isham |
| Production Company | Walt Disney Pictures |
| Distributed by | Disney |
| Running time | 114 minutes |
| Release date | December 20, 2019 (United States) |
How to watch Togo Movie
Togo Movie is available on the Disney Plus OTT platform. The Togo Movie is now available on Disney Plus.
Disney+ offers a wide array of shows from Marvel, Star Wars, Disney+, Pixar, ESPN, and National Geographic, so you can choose from all streaming services.
To watch the movie, you can also watch this movie by subscribing to the Disney Plus website or by downloading the Disney Plus App from the Google Store.
Where to watch Togo Movie
This movie is available on Disney plus Hotstar OTT platform in the English language.