If you're a dog lover, there's something magical about watching heartwarming dog movies that celebrate the bond between humans and our furry friends.
Whether you're seeking laughter, tears, or inspiration, these top 10 dog movies will tug at your heartstrings and bring joy to your movie nights. So grab some popcorn, cuddle up with your four-legged companion, and prepare for an unforgettable cinematic experience.
Each film showcases the unique qualities of dogs and their impact on our lives. Some movies explore the unbreakable loyalty and unwavering devotion dogs have for their owners, while others delve into the adventures and mischief that come with having a canine companion.
These movies not only entertain but also remind us of the incredible bond and unconditional love that exist between humans and dogs.
Table of Contents
1. Hachi: A Dog's Tale (2009)
Available on: Amazon Prime Video
Based on a true story, Hachi: A Dog's Tale follows the touching relationship between a college professor (Richard Gere) and his loyal Akita dog, Hachiko. This heartbreaking film portrays the unwavering loyalty and devotion of a dog that waits for its owner daily at the train station. Get ready to shed some tears as this movie showcases the remarkable bond between a man and his best friend.
2. Marley & Me (2008)
Available on: Amazon Prime Video
Marley & Me is a delightful and humorous film that chronicles the journey of a lovable but mischievous Labrador Retriever named Marley. Jennifer Aniston and Owen Wilson play a couple discovering that life with Marley is full of hilarious adventures, love, and valuable life lessons. This heartwarming comedy reminds us of the joys and challenges of raising a spirited, lovable, furry companion.
3. Beethoven (1992)
Available on: Disney+
Beethoven is a family-friendly comedy introducing us to the lovable and slobbery St. Bernard named Beethoven. When a mischievous but affectionate giant dog enters the Newton family's lives, chaos and laughter ensue. This light-hearted film is perfect for all ages, with memorable moments showcasing the bond between Beethoven and his human family.
4. The Secret Life of Pets (2016)
Available on: Hulu
The Secret Life of Pets takes us on a hilarious adventure into the lives of our furry companions when their owners are away. This animated comedy explores the escapades and friendships that unfold among a group of pets, including Max, a lovable Jack Russell Terrier, and Duke, a big-hearted Newfoundland. This dog movie is packed with witty humour and memorable characters. This film is a must-watch for pet lovers of all ages.
5. Old Yeller (1957)
Available on: Disney+
Old Yeller is a timeless classic that has touched the hearts of generations. Set in the wild frontier, this heartfelt tale tells the story of a brave and loyal dog named Old Yeller who protects his family from danger. This dog movie is filled with adventure, courage, and emotional moments. This film showcases the incredible bond between a dog and humans in adversity.
6. Lassie (1994)
Available on: Netflix
Lassie is an iconic tale that follows the adventures of a courageous Rough Collie named Lassie and her unwavering dedication to her human family. From rescuing those in need to navigating treacherous situations, Lassie proves time and again why she is considered a hero. This heartwarming film celebrates loyalty, bravery, and the extraordinary bond between humans and their canine companions.
7. 101 Dalmatians (1961)
Available on: Disney+
101 Dalmatians is a beloved animated classic that tells the story of Pongo and Perdita, two Dalmatians who embark on a thrilling adventure to rescue their stolen puppies from the clutches of the infamous Cruella de Vil. This delightful film captures the spirit of love, family, and the incredible devotion of dogs. Join the adorable Dalmatian family on their journey to reunite and outsmart the notorious villain.
8. Lady and the Tramp (1955)
Available on: Disney+
Lady and the Tramp is a timeless romantic tale that follows the adventures of Lady, a refined Cocker Spaniel, and Tramp, a street-smart mutt. This animated classic takes us on a charming journey of love, laughter, and unforgettable spaghetti dinner scenes. Experience the enchantment of this film and witness the power of love and acceptance, no matter the differences.
9. Homeward Bound: The Incredible Journey (1993)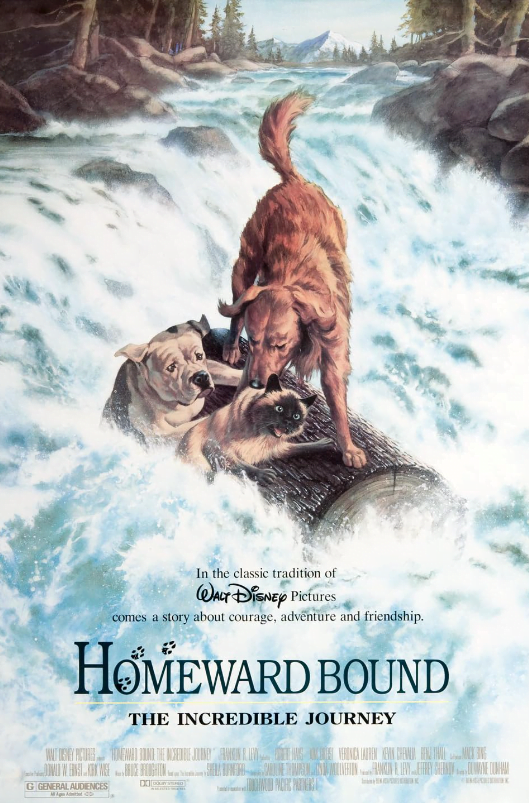 Available on: Disney+
Homeward Bound: The Incredible Journey is an adventurous and heartwarming film about two dogs, Shadow and Chance, and a wise and witty cat named Sassy. Together, they embark on a remarkable journey to find their beloved owners. This captivating movie showcases the strength of friendship, loyalty, and the unbreakable bond between pets and their humans.
10. The Adventures of Milo and Otis (1986)
Available on: Amazon Prime Video
The Adventures of Milo and Otis is an endearing Japanese film that follows the adventures of a curious orange cat named Milo and an adventurous pug named Otis. Join them on a journey of surprises, challenges, and heartwarming moments. This delightful and family-friendly film celebrates friendship and the joy of exploring the world together.
These ten dog movies offer diverse stories that capture the essence of the extraordinary relationships we share with our beloved canine companions. From tales of loyalty and courage to heartwarming adventures, these films will surely entertain and touch the hearts of dog and pet lovers everywhere.
Conclusion
Whether you're in the mood for laughter, tears, or inspiration, these top 10 dog movies deliver unforgettable experiences for dog enthusiasts. Each film highlights the remarkable bond between humans and dogs, showcasing the loyalty, bravery, and unconditional love that make these furry companions an integral part of our lives. So, gather your loved ones, including your furry friends, and embark on a cinematic journey celebrating our extraordinary relationships with our canine companions.
FAQs
Are all of these dog movies suitable for children?
Yes, most of the movies on this list are family-friendly and suitable for all ages. However, it's always a good idea to check the rating and content of each film before watching it with young children.
Where can I watch these dog movies?
The availability of these movies may vary across different streaming platforms. We have mentioned the platforms where each movie is currently available. Still, streaming services often update their catalogues, so checking for availability on your preferred platform is recommended.
Do any of these movies have sequels or spin-offs?
Some movies on this list have sequels or remakes, such as 101 Dalmatians and Lady and the Tramp. These additional films further expand on the stories and adventures of the beloved characters.
Have any of these movies won awards?
Several of the movies on this list have received critical acclaim and accolades over the years. For example, Old Yeller and Lassie are considered classics and have garnered recognition for their storytelling and performances.
Can you provide a list of the cast members for each movie?
Certainly! Here is a summary of the